A low-cost open-source 3D printer that makes metal parts has been designed by Joshua M. Pearce and his team at Michigan Technological University (MTU). Sigma Labs, known for its in-process control technology for 3D metal printing, has signed a memorandum of understanding with the university to support commercial development of the printer.
The printer designed by Pearce and his team in MTU's department of materials science and engineering combines gas-metal arc welding and a version of the RepRap open source 3D printer. You can build one using the bill of materials and other info on the project's wiki page for less than $2,000. (The BOM actually adds up to $1,192). Pearce's Open Sustainability Technology Lab is the same source of the studies that found that 3D printing is both cheaper and greener than traditional factory-based mass manufacturing and distribution -- at least for making consumer plastic products on RepRap printers.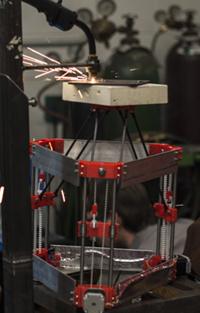 An open-access paper describes the MTU 3D metals printer in more detail. In their paper, Pearce and his team cite the same lack of access to high-cost metals 3D printing that drove the father-and-son Vaders to redesign a metals 3D printer at a much lower cost. The MTU definition of who needs a low-cost metals printer is a bit wider: small to medium-sized organizations, laboratories, and the developing world. They also point out that proprietary commercial 3D metals printers are slow and, well, proprietary.
Sigma Labs' involvement is an interesting development. The company sells an in-process technology for inspecting and verifying metal production parts with complex geometries called PrintRite3D, developed specifically for additive manufacturing (AM) with metals. Sigma Labs is also co-developing a new in-process inspection technology with partner GE Aviation. A reduction of about 25% may be possible in the total AM time required for making the LEAP parts due to this new inspection technology. It's also expected to help assure build quality and repeatability by verifying part geometry and quality.
The memorandum of understanding describes the intention of both parties to collaborate in co-developing technology for a low-cost, 3D metals printer that will produce near-net parts. It will also require only 3- or 5-axis machining to get those parts into their final form, according to a press release. The new printer's technology would be based on PrintRite3D's quality control and sensing technology, as well as Sigma Labs' expertise in advanced sensing and process control used in gas-metal arc welding. If the co-development process goes forward, the company expects to build a printer that would work with titanium, steel, aluminum, and nickel-based alloys. It has already identified manufacturers that could produce the printer.
Related posts: