3D printing with metals is not new. But the range of metals that can be 3D printed is increasing quickly. We recently told you about a laboratory breakthrough that allows 3D printing of liquid metal structures at room temperature, something that makes many readers think of the film, Terminator 2: Judgment Day. Closer to immediate and useful reality, industrial 3D printer supplier ExOne has added iron infiltrated with bronze, and bonded tungsten, to the range of metal and ceramic powders that can be used with its multi-material M-Flex machines.
One of the main reasons the company has seen demand for using iron to 3D print parts instead of its existing stainless steel is its lower cost, Rick Lucas, ExOne's CTO, told Design News in an interview. Iron costs about 25 percent as much as stainless steel. The cost ratio of materials to total part cost also depends on part size: When making parts smaller than the size of the human hand, materials cost is only about 10 to 15 percent of total part cost.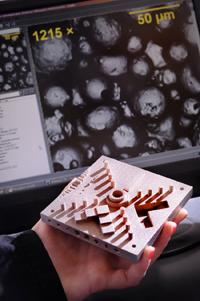 But as parts get larger, materials can be more than 30 percent of the cost. "That's significant," Lucas told us. "You won't find stainless steel in a lot of industrial applications like automotive parts, machine tools, heavy equipment, and support structures. That's where iron is needed, for both cost and strength." Instead, the main use for stainless parts now by ExOne's customers is impellers and abrasive-type pumping applications.
To develop bonded tungsten for 3D printing, ExOne collaborated with a contract design and manufacturing company called rapid prototype + manufacturing (rp+m). rp+m provides rapid prototyping, additive manufacturing, rapid manufacturing, and 3D printing and scanning in-house. In this project, the two companies focused on the design of 3D-printed products for use in protecting people and their environments from ionizing radiation. Along with its partner, Radiation Protection Technologies, rp+m produces these bonded tungsten products as bundled solutions that replace lead in medical imaging and aerospace.
ExOne is also offering two new binders, sodium silicate and phenolic, as alternatives to furan. Phenolic binder is used with ceramic sand for 3D printing molds and cores, used in the sand molding and casting industry. "Depending on the shape and geometry of the part, you may need something stronger than furan," said Lucas. Phenolic creates a higher strength mold or core, allows higher heat alloys to be cast, and reduces the amount of expansion of the mold or core, improving casting quality. Customers in the hydraulic equipment, heavy equipment, and pump industries, as well as aviation and automotive, requested this new binder material. The sodium silicate binder is a greener alternative to furan, reducing fumes and gas during casting.
All of ExOne's 3D printers, including M-Flex, employ a print head that distributes the binder via jetting it into beds of specially formulated materials. The M-Flex build chamber measures 400 mm x 250 mm x 250 mm (15.7 inch x 9.8 inch x 9.8 inch), and achieves speeds of up to 30 seconds per layer. It's designed for manufacturing either short runs or prototypes of metal parts.
Currently available materials for the M-Flex include silica sand, ceramic sand, stainless steel, glass, copper, iron, and tungsten. The goal is to make at least one new material class available every six months, Lucas told us.
The company's internal Material Applications Laboratory is currently working on several other materials in different stages of development. These include alumina, silicon carbide, chromite, titanium, graphite, zirconia, inconel, aluminum, tool steel, and magnesium. "We designed the M-Flex to print multiple materials, as well as let users change settings to optimize them for their specific needs," said Lucas.
ExOne was one of a few 3D printer makers, including Stratasys and 3D Systems, chosen as initial members of the US government-sponsored National Additive Manufacturing Innovation Institute (NAMII).
Related posts: