We've already told you about researchers who are working with organic material found in trees to develop solar cells, but not for their energy-harvesting aspect.
Now, researchers at the University of Georgia (UGA) have developed a way to interrupt plant photosynthesis so material from them can be used to harvest solar energy.
Using plants as organic material in solar cells is a natural fit; after all, plants have been harvesting solar energy at top efficiency as part of their basic process of sustaining life for billions of years through photosynthesis.
Finding a way to leverage this naturally occurring process in commercial solar cells could provide a cleaner, more environmentally friendly way to harvest solar energy, said Yogeswaran Umasankar, a post-graduate at UGA who collaborated on the project with Ramaraja Ramasamy, assistant professor in the UGA College of Engineering, and other researchers. They published an article about their work in the the journal Energy & Environmental Science.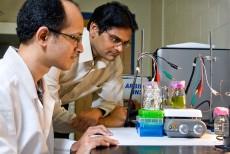 "Plants convert light energy to electrical energy with 100-percent conversion efficiency, and they are environmentally friendly," Umasankar told Design News. Moreover, when used in the solar conversion process, "a continuous external fuel source is not needed," he said.
The approach UGA researchers used was to extract electrons created by a plant's splitting of water molecules into hydrogen and oxygen during photosynthesis before they are used to create sugars, which the plants use for food. To do this, the team developed technology that can separate structures in the plant cell called thylakoids, which capture and store solar energy. They made changes to the proteins contained in the thylakoids so that the paths along which the electrons flow also were changed. Then they placed these modified thylakoids on carbon nanotubes, which capture the electrons and send them along a wire, thus acting as the electrical conductor.
Umasankar explained:
In the past we have experience in electrically connecting proteins with the electrode surface. In this case, thylakoids -- present in chloroplast -- from the plant leaves were extracted, and electrically connected them with the electrode surface. This electrical connection enabled transfer of solar-energy from the plant to the electrode.
Though not entirely conclusive, the results of the experiments showed that the transfer of electricity was a success and could be used for sensors or small appliances and devices, though it would take more work to achieve a larger scale, according to Umasankar. "We demonstrated that it is possible to trap energy from the photosynthesis process and transfer them to an external circuit," he said. "We were able to harvest solar energy at power output lower than the required for home appliances. Scaling up is needed for high power generation."
Researchers are continuing to work on enhancing the stability of the plant extract, improving power generation, testing at large scale, and developing and designing cells to hold the energy conversion process, Umasankar said. If this work can proceed, this process could be used commercially in about 10 years, he told us.
Related posts: