Smith Electric Vehicles has teamed with Trans Tech Bus to roll out a 42-passenger, 26,000lb electric bus, called the Newton eTrans, which it hopes will change the way children get to school every morning.
"Speed and predictability of route is important," Bryan Hansel, CEO of Smith Electric Vehicles, told us. "School buses tend to have very dedicated routes. You know the exact distance that you drive every day, so you don't have to have any concerns about range anxiety."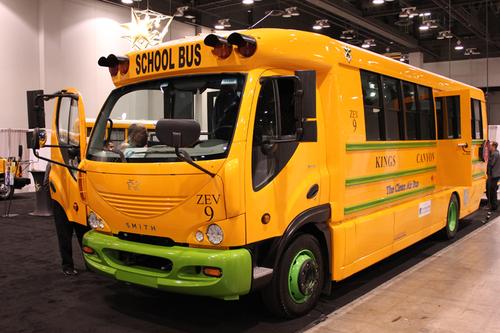 Indeed, Smith is tuned into the idea of route predictability, so much so that the company offers customers a graduated series of lithium-ion battery sizes. Starting at 40kWh, its battery sizes increase in 20kWh increments, up to a maximum of 120kWh. The top-level bus, which carries about 3,000lb of batteries onboard, has a range of about 120 miles, and employs a permanent magnet motor with 150kW of peak power.
Smith's battery cells, configured like saddlebags across the bus's center frame rails, use a lithium iron phosphate chemistry, and are built by A123 Systems. Although the battery packs employ sensors to monitor cell temperatures, they have no active cooling system. If the battery management system "sees" elevated temperatures in any of the cells, it de-powers that part of the pack (although the company said that has never been necessary).
In that respect, electric buses have an advantage over small electric cars that accelerate quickly, Hansel said.
"When you have a smaller battery and need to accelerate more quickly, that's when you need active cooling," he told us. "You tend to get heating because you are trying to draw energy out of a small number of cells very quickly, whereas we have very large batteries, and we pull very little energy out of them."
To build the bus, Smith teamed with Trans Tech Bus. Smith builds the power chassis for the Newton eTrans, while Trans Tech does the body, structural design, and the interior. The two companies believe that the eTrans is the first all-electric school bus.