Today, it's hard to imagine an automobile without electronic control. Microcontrollers for engines, transmissions, airbags, brakes, and stability control systems are taken for granted. We expect them to be down there, communicating across databases with such names as CAN, LIN, and FlexRay.
But automotive electronic controls haven't remained stagnant. Today's intelligent navigation systems can watch traffic. Vehicles can parallel-park themselves. Manufacturers are incorporating adaptive cruise control, lane-keeping, and camera-based collision avoidance.
Engineers are keeping an eye on the distant future, too. In the agricultural world, tractors can now drive themselves. Experimental street vehicles have done the same in DARPA's Grand Challenge.
In this slideshow, we've corralled developments in automotive electronics, from the advances in collision avoidance to the far-reaching technologies of autonomous vehicles.
Click on the image below to begin the slideshow: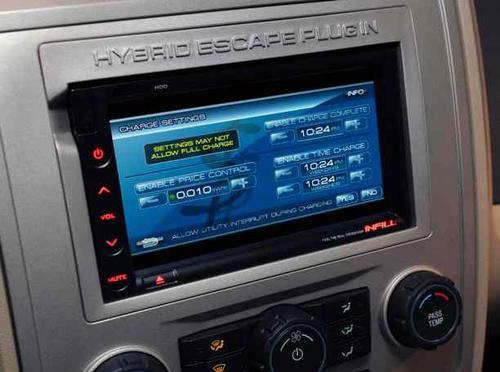 Using a vehicle-to-grid strategy in the future, electric car batteries will be able to dump energy back onto the grid when utilities need help. A grid interface on a prototype Ford Escape plug-in hybrid allows users to control the time of re-charging and check the costs of electricity on the grid at any given moment.
(Photo courtesy of Ford Motor Co.)
Related content

To keep up with our Chevy Volt coverage, go to Drive for Innovation and follow the cross-country journey of EE Life editorial director, Brian Fuller. On his trip, sponsored by Avnet Express, Fuller is driving a Volt across America to interview engineers.




0
GE is working on a new 3D printing method, known as cold spray, in which metal powders are sprayed from a nozzle at extremely high velocities on metal objects.

1
NASA's Robonauts are being developed for inter-planetary travel, and to take over for astronauts when the work becomes too dirty or dangerous.

13
An industrial robot known for its safety around humans has been programmed to work a checkout lane and choose how it accomplishes certain tasks.

7
Trends in motion control all converge toward greater efficiency in movement, energy, control, and wiring.

24
Are they robots or androids? We're not exactly sure. Each talking, gesturing Geminoid looks exactly like a real individual, starting with their creator, professor Hiroshi Ishiguro of Osaka University in Japan.


LATEST ARCHIVED BROADCAST
For industrial control applications, or even a simple assembly line, that machine can go almost 24/7 without a break. But what happens when the task is a little more complex? That's where the "smart" machine would come in. The smart machine is one that has some simple (or complex in some cases) processing capability to be able to adapt to changing conditions. Such machines are suited for a host of applications, including automotive, aerospace, defense, medical, computers and electronics, telecommunications, consumer goods, and so on. This discussion will examine what's possible with smart machines, and what tradeoffs need to be made to implement such a solution.



Datasheets.com Parts Search
185 million searchable parts
(please enter a part number or hit search to begin)